If you need a compact tractor for your farm, how do you choose the best option? It can be difficult to find the right compact tractors for sale. But you shouldn't go for the 'best' compact tractor. What you have to ask yourself is: what do you need your compact tractor for? 
What Do You Need Your Compact Tractor For?
It's probably going to be those farm chores where you need great manoeuvrability. But there are other factors you need to consider. Such as your agricultural needs, horsepower, and affordability. A good place to start is by making a list of the tasks you will need to complete, then making a decision based on what tractor is best for those tasks. You also need to choose the right compact tractor attachments.
Choosing from all the incredible compact tractors for sale doesn't have to be complicated. To guide you towards the perfect compact tractor for you, we've created a list of the top 5 compact tractors for sale today. Let's explore each option, so you can make the right decision.
Solis

John Deere

Massey Ferguson

Kubota

Iseki
Solis Compact Tractors
Solis is the fastest growing tractor brand in Europe. Right now, they're selling over 90,000 tractors a year. So, where does this popularity come from? Well, Solis compact tractors are known for both their power and how easy to use they are. This tractor works with a range of compact tractor attachments, which makes them a very versatile choice. A Solis compact tractor is also affordable for the high-quality they offer and perfect for a variety of agricultural work.
Across Europe, these compact tractors are renowned for pulling power, high torque, and durability. Because of Solis's reliability and sturdiness, they will save you money in the long-term because of their low maintenance costs too. This makes them an affordable option that won't cause you any trouble. For all new compact tractors, Solis offers an industry-leading 3-year warranty.
Explore our website to find out more about Solis compact tractors for sale in the UK today.
John Deere
John Deere is one of the biggest names in agricultural machinery manufacturing. They're known for producing high-quality tractors, compact tractors, and compact tractor attachments. One thing that makes them stand out in the industry is their compact tractors' versatility. It doesn't matter if you're mowing, digging, or loading heavyweights, John Deere compact tractors are a great option to pick.
John Deere compact tractors will work well in a wide range of environments as well. From agricultural work on a farm, in a horse barn, or as a municipal tractor, the tractor will be able to get the job done. This is because of its advanced manoeuvrability, which allows you to navigate confined spaces with ease. If you want one tractor that can do hundreds of jobs, this could be the choice for you.
Massey Ferguson
One of the most well-known agricultural brands there is. Massey Ferguson compact tractors offer comfort and convenience with a spacious platform and ergonomically-designed controls either side of the driver's seat. These compact tractors are described as 'neat and nimble' by Campbell Scott, Massey Ferguson's Director of Sales Engineering & Brand Development. But don't take his word for it, their popularity across the globe speaks for itself.
These tractors are also versatile and adaptable to a range of tasks and environments. For example, some models can fit both turf and agricultural tyres. This means they're ideal for a range of tasks. At Blacktrac, we offer high specification Massey Ferguson small tractors that are simple to use and provide a wide range of benefits.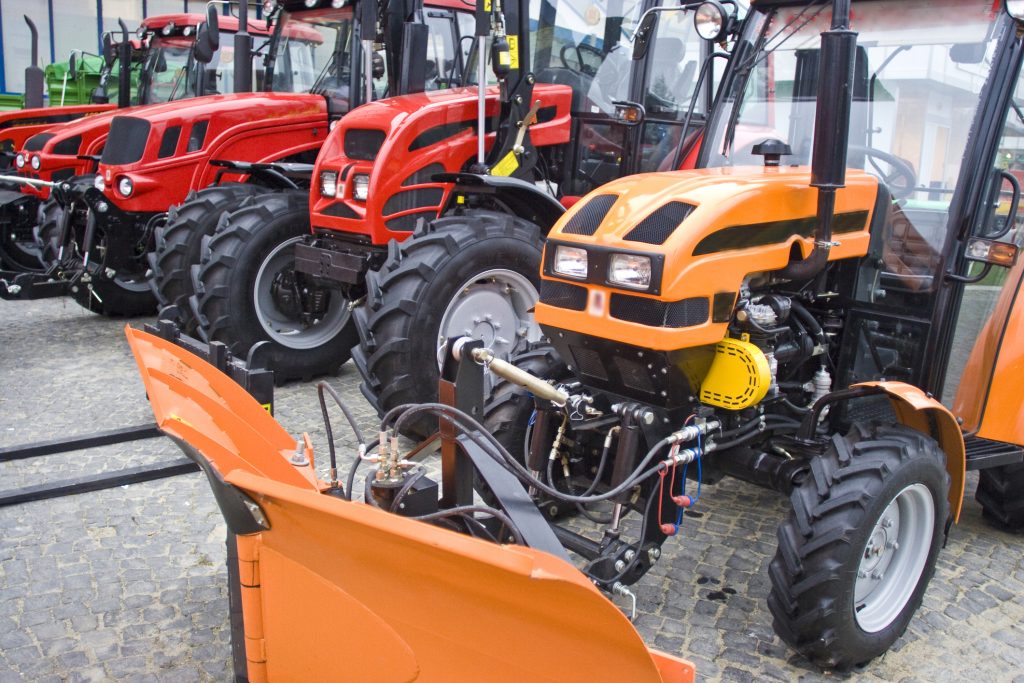 Kubota
Comfort and productivity are two of the main selling points of Kubota compact tractors. With comfortable seating, ergonomic controls, and a backlit instrument panel, they're not only easy to use but comfortable too. This means you don't have to worry about any injuries or fatigue, you can focus entirely on the job at hand.
These tractors also have complete manoeuvrability, allowing you to efficiently navigate tight corners and confined spaces. This is one of the many ways this brand is easy to operate. For example, even when the tractor is fitted with a front loader, its power-assisted steering ensures it continues to manoeuvre smoothly.
Kubota also offers a wide range of compact tractor attachments and versatile tractors. From mower decks to front loaders, you will be able to adapt the tractor to your needs. This means you have your personal choice over the configurations of the vehicle.
Iseki
Iseki is an industry leader in compact tractors and has been operating for over 90 years. They provide a lot of options that are purpose-built for turf maintenance, so will ensure you can maintain high-quality ground care. But they also offer some of the strongest compact tractors available in terms of lifting capacity to weight ratios. As they're versatile and able to be fitted with a range of implements, they're ideal for a variety of ground maintenance jobs.
Like any of the best compact tractors on the market, Iseki offers manoeuvrable and dynamic tractors. As well as this, they supply all tractors with ag or turf tyres and optional front loaders. The Iseki range also aims to reduce fatigue while on the job through a comfortable operator platform and ergonomic controls. This is why they're still one of the leading compact tractor suppliers after all these years.
Thank you for reading this month's blog. Hopefully, you know have a better idea of what the best compact tractor for you is. To find compact tractors for sale, get in touch today.
Contact Us Today
Call us on 01536 484923 or fill in the enquiry form on our contact page today.