Buying A Solis Compact Tractor
Solis tractors are the fastest-growing compact tractor brand in Europe. Solis is still a fairly new name in the tractor scene in the UK, but it's easy to see why UK sales are increasing year on year. Solis sells over 90,000 tractors every year because of the tractors' simplicity, power, and affordability.
There's a Solis compact tractor available for every budget. Through their unrivalled pulling power, low-maintenance costs, and high torque, Solis offer compact tractors ideal for a wide range of landscapes too. For smallholding owners and landowners, the Solis 20 and the Solis 26 are two of the most popular models available.
However, there are many Solis compact tractors on the market, keep reading to find the perfect tractor for your requirements.
£5K Solis Attachments
Landscaping tasks and ground maintenance on your smallholding require high-quality tractor attachments. The loader muck fork is the ideal tool for a wide range of tasks on your smallholding, such as moving manure, plant waste, and animal bedding. Like Solis' compact tractors, this Solis attachment is designed for ease of use and efficiency, which makes managing your land much simpler.
Perfect for manure, animal bedding, and tree and green waste

Compatible with Solis 20 and 26 tractors fitted with a Cochet CX19 loader

Manufactured in Europe

Features six 55cm long forks

Easy to fit and use
£5-10K Solis Compact Tractors – Low Price, Big Value
The Solis 20 is a small tractor that's the perfect tool for landscaping or land management on your small holding. It's also an effective way to perform rotovating tasks and to spray land. Available from Blacktrac today, this Solis 20 compact tractor is brand new and ready to be used on the road as well as your small holding. 
Featuring a three point linkage, UK clockwise 6 splined PTO shaft, and foldable rollbar, the Solis 20 is a high spec compact tractor that's simple to operate. With many more innovative elements, it's an industry-leading small tractor that will benefit any small holding. 
Ergonomic design

Fuel efficient

Road registered

4WD

20HP Mitsubishi water-cooled engine

Variety of tyre choices, such as industrial, agricultural, and turf tyres
The Solis 26 compact tractor is ideal for ground maintenance tasks on land and small holdings. It's also versatile as operators can fit them with a variety of attachments such as front loaders, rotary tillers, and flail mowers. Because the Solis 26 is fitted with wide industrial tyres, operators can have peace of mind they can traverse even the most difficult terrain.
As well as practical, the Solis 26 compact tractor is stylish and sleek. The small tractor is available with an unmatched industry-leading 3-year warranty from Blacktrac. It's also not the tractor attachments that are adaptable with the Solis 26 but the tyres too. Depending on your requirements, Blacktrac can supply the tractor with ag tyres, galaxy pro tyres, and turf tyres.
Brand new

Can be road registered

Power steering

4WD

26HP – powered by a Mitsubishi water cooled engine

Three point linkage – Category 1

UK clockwise 6 splined PTO shaft
£10+K Solis Compact Tractors – The Highest Market Quality
Featuring all the innovative features of the Solis 50 compact tractor, but designed to fit turf tyres. Available from Blacktrac today, it's an expertly built 50HP small tractor that's simple to operate and effective at completing a wide range of tasks on small holdings. 
As part of it's design, the Solis 50 features a heavy duty standard clevis and pin rear drawbar as well as 4 rear hydraulic valves. You can also take out an industry-leading 3-year warranty to give yourself peace of mind.
Front weight frame – you can fit a substantial weight block with a front drawbar within the weight frame

height 2.37m, width 1.98m, total length 3.82m

Industry-leading rear lift arm capacity of 1600kg

55 litre fuel tank

Synchromesh gearbox

Power steering

34kph top speed
Should I Invest In a Solis Compact Tractor?
Solis compact tractors are a popular brand for good reason. However, if you're still deciding whether to invest in a Solis compact tractor, keep reading to find out more. Below are 5 key benefits Solis tractors offer compared to their competitors: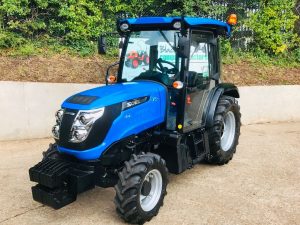 Ergonomic Design
One of the biggest benefits of Solis compact tractors is their ergonomic design. Every aspect of each model is designed to improve efficiency and comfort for operators in the cockpit. 
Top 6 Global Manufacturer
Solis is the fastest growing tractor brand in Europe and is a top 6 global manufacturer in the world. They're only going to become more in-demand in the UK, especially as the tractors become more innovative and remain at competitive prices.
Affordable Price
Solis compact tractors offer industry-leading, high spec performance, without having to break your budget. As well as a lower upfront cost than other brands, Solis tractors' durability means the machinery will last long term so you avoid potentially expensive repairs.
Innovative Attachments
Solis compact tractors are not only compatible with a wide range of industry-leading attachments but provide their own range too. 
Blacktrac Solis Compact Tractor
So, now you've heard all about Solis compact tractors do you think they're right for your smallholding? If you're a landowner or own a smallholding, Blacktrac's expert team can help you discover the perfect compact tractor for your requirements. Whether you know which model you want or need some guidance, we're here to help, get in touch today.
Call us on 01933 272662 or visit our contact page to send us an enquiry today.