Maintaining A Golf Course With A Compact Tractor
Teeing off after a long week at work is one of life's simple pleasures. Before guests can enjoy the golf course, however, there are a variety of landscaping tasks that need to be completed quickly, quietly, and efficiently. Compact tractors for golf courses are the perfect equipment to get these jobs done.
Most 18-hole golf courses are between 120 and 180 acres but what makes them unique is the varying types of terrain. Crisp carpets of grassland, woodlands, and bodies of water all make up the acreage of golf courses. But most of the land consists of turfgrass which needs regular grooming to ensure guests can tee off and play the best quality game possible.
To handle all the maintenance tasks efficiently, you need a versatile piece of equipment that's ideal for a wide range of landscaping jobs. Look no further than a Solis compact tractor. This high-quality machine is versatile, easy to operate, and installed with the latest innovative design features. Here are just some of the tasks this compact tractor can assist with:
Loading & Transporting Materials

Scarifying 

Aerating

Hedge Cutting 

Mowing

Drainage

Earthmoving
What Are The Best Compact Tractors For Golf Course Maintenance?
Selling over 90,000 tractors every year, Solis tractors is the fastest-growing compact tractor brand in Europe. Solis compact tractors are known for their low cost, industry-leading power, and ease of use. There is a wide range of specialist tractor attachments needed for landscaping tasks on a golf course. Solis offers a variety of tools and attachments that can be outfitted onto the tractor which makes them ideal for golf course maintenance.
Whether it's a rear PTO and front loader or high-quality turf tyres, tractor attachments are essential for managing a golf course. If you're responsible for managing a golf course, Solis tractors allow you to move earth, tow machinery and mow turfgrass to ensure guests can enjoy a quality round of golf. Other implements such as a flail mower and leaf blower make golf course maintenance simple and easy for operators.
However, with so many innovative compact tractors coming out every year it can be a challenge to know which is the best option for you. Identify the tasks you need to complete, set your budget, and predict any future tasks you will need support with long term.
Understanding these requirements ensures you discover the right compact tractor for your circumstances.
The Solis 20 is a compact tractor ideal for landscaping tasks. This brand new Solis 20 compact tractor is available from Blacktrac now and is ready to operate on the road not only on your golf course. As a high-spec compact tractor, the Solis 20 features a simple to operate three-point linkage system, foldable rollbar, and UK clockwise 6 splined PTO shaft. 
Outfitted with Ag tyres, also available with turf tyres, galaxy pro tyres, and industrial tyres.

4WD and double hydraulic valves.

Front-mounted 2 x 15kg counterbalance weights.

Category 1 – 3 point linkage.

Unmatched 3-year warranty.
The Solis 26 compact tractor is versatile for a variety of golf course maintenance tasks. Operators can fit the machinery with tractor attachments such as flail mowers, front loaders, and grassland rakes. The tractor's ease of use and efficiency makes the Solis 26 compact tractor ideal for landscaping tasks on your golf course. Outfitted with wide industrial tyres the machinery has the capabilities to navigate the most difficult terrain, so is suited to the different landscapes found on golf courses.
Unmatched 3-year warranty.

4WD powered by a 26HP Mitsubishi water-cooled engine.

3 point linkage category 1 system.

Double hydraulic valves and foldable rollbar.

Front towing eye and UK clockwise 6 splined PTO shaft.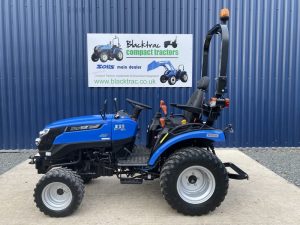 Investing In A Compact Tractor For Maintenance On A Golf Course
Finding the right compact tractor for managing your golf course doesn't have to be a challenge. Solis tractors are the fastest growing tractor brand in Europe and are versatile, easy to operate, and ideal for a wide range of landscaping tasks. That's why they're the perfect choice for golf course maintenance.
Struggling to find the right compact tractor for maintaining your golf course? Get in touch with Blacktrac today. Our expert team has years of experience helping customers find the right industry-leading compact tractor for their requirements. Find out more today, give us a call on 01933 272662 or visit our contact page to enquire further.