If you are in the market for buying a ride-on lawnmower, then there are some things you should know before you make your purchase. After all, mowers are an important piece of kit, especially ride-on lawnmowers, so it is important to make an informed decision. This blog aims to help you do just that.
Considerations When Buying a Ride-on Mower
Decide on Your Size
Ride-on mowers, aka garden tractors, come in varying sizes. The size of your ride-on mower is an important factor to consider because if you purchase one that is too big for your garden, you will have a nightmare using it. On the other side of things, if you purchased a garden tractor that had a cutting width that was too small it would take you a lot longer to finish a larger garden. Think about what size you have room for in your chosen storage area too (usually your garage).
Hydrostatic or Manual?
When it comes to buying a ride-on mower, you need to know that they do come in either hydrostatic or manual options. A hydrostatic option could be thought of as the equivalent of an automatic car, it is said to be better for going around obstacles and may have a cruise control option (good for large open spaces). Then you have the manual, which could be thought of as like driving a manual gear car, you have a clutch system to change gears. Both options could work for anyone, it will just come down to your preference.
Will You be Able to Operate?
If you are going to be the one to use the mower, you need to make sure you can operate it and not everyone will find every model easy to use. You should think about if the ride-on mower is easy to get on and off, how easy it is to operate when in action, and if the button and lever layout suit the way you would want to use the mower. Remember, some of the garden tractors are quite sparse with their features and just keep things to the basics, however, others have a lot going on and it could become confusing.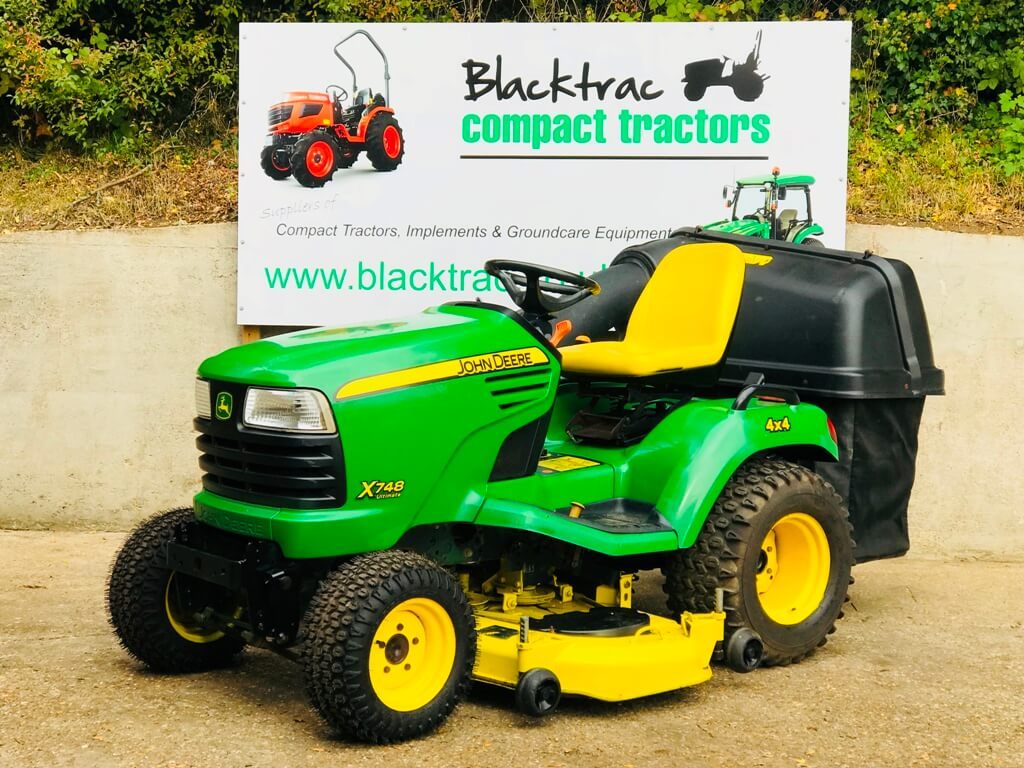 Position of the Cutting Blade
The thing to understand about cutting blades on a mower is the following: if the blades are at the front, you can more easily trim from underneath bushes and trees, and you will not need to keep adjusting them every time the lawn is mowed. If, however, the cutting blades are positioned under the driver's seat, it becomes easier to get up to edges and navigate around borders. Which would suit your garden best?
Does the Mower Support Rear Collecting?
Remember not every mower will collect the grass clippings. But you can purchase a rear collecting garden tractor which would collect up grass clipping into a collection bag whilst you mow and then you can empty them after. There are also mulching garden tractors. These cut up the clippings very finely and then are left to mix back into the garden, feeding the soil and grass.
These are some of the main considerations you should have when it comes to the purchase of a ride-on mower. You want your investment to last as long as possible, so do some research to find some of the brands with the best reputation and find one that is within your budget. Be careful to check warranties and also think about what sort of maintenance and servicing each machine may require, as some are easier to clean than others. Also, the user is going to be spending a lot of time on their mower, so find one with a comfortable seat.
So, if you are looking for a ride-on mower, Blacktrac has you covered. Call us today on 01536 484923, or visit our contact page for more details.