Local councils are always looking for effective solutions that fall within their budget. This is certainly the case with land management and landscaping tasks as equipment has the potential to be expensive. That's why it's so important to look for machines that are versatile and cost effective, and compact tractors for councils are no different.
Compact tractors for local councils are an ideal solution. From mowing large areas of grass to cutting down weeds and hedges, they can make short work of a lot of outdoor jobs. 
Why do Local Councils Need to Invest in Landscaping Equipment?
Local councils have a responsibility to keep their communities clean and attractive. Not only does this make the area look more appealing, ensuring your public spaces are well maintained, it makes it more enjoyable for residents to use. This can be key for getting people using local spaces and amenities and keeping the local community thriving.
There is now heightened pressure on local authorities to provide well maintained, accessible public spaces in the light of Covid-19. The pandemic gave a stark reminder of just how important public spaces are to communities all across the UK and allowed us to see them in a different light. Now, it's not uncommon for public spaces to mix stunning design with ecological know-how, to create a versatile space that can be used for a range of different recreational activities.     
Landscaping equipment is at the heart of the constant maintenance work that helps to keep these spaces looking their best. Whether it's parks, playgrounds, or other public spaces, landscaping equipment helps local councils to carry out work more efficiently and effectively. 
What Type of Equipment do Local Councils Need?
The type of equipment that a local council needs will depend on the size and scope of its responsibilities. However, some common pieces of equipment include:
Mowers

Trimmers

Hedge trimmers

Tipping boxes and loader buckets for transporting equipment or materials 

Spreaders

Levelers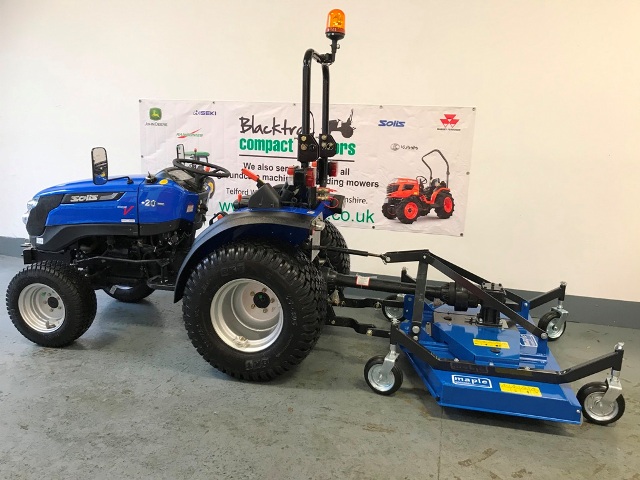 Benefits of Compact Tractors for Local Councils
Compact tractors are truly versatile machines that offer a number of benefits for local councils:
Long-lasting equipment –

Compact tractors are built to last, so they can provide years of reliable service if properly maintained. 

Versatility –

Compact tractors are truly versatile machines that can be used for a whole range of tasks. This is one of their biggest benefits which makes them a far more cost effective solution than other landscaping equipment options, such as ride-on mowers for example.  

Size and weight –

Compact tractors are smaller than traditional tractors, which makes them ideal for manoeuvring in tight spaces. Obstacles – such as play areas, outdoor seating areas, flower beds or water features – are common in public spaces, so you need equipment that can cope. The lesser weight of a compact tractor also helps to protect lawns from getting churned up as work is carried out.   

Cost efficient –

Compact tractors are a cost-effective way to maintain outdoor spaces. They are relatively inexpensive to purchase and operate, and they can save councils money on labour costs. Their versatility also helps to keep overall costs low as you do not have to invest in a range of different pieces of equipment.
How to Choose the Right Compact Tractor for Your Needs
When choosing compact tractors for local councils, there are a few factors you need to consider, including:
The size of your community –

The size of your community will determine the size of the tractor you need. 

Intended use –

The types of tasks you need the tractor to perform will determine the features you need it to have. Have a clear idea of what it is you want from your tractor and don't always go for something with a lot of features that you may not even use. 

Your budget –

Your budget will of course determine how much you can spend on a tractor. Budget is absolutely key for local councils and juggling effectiveness with affordability is integral to your success. 

Size and shape –

Compact tractors come in all kinds of shoes and sizes, so make sure to find something that's suitable. 

Engine size –

This is again dependent on your intended usage and bigger is not always better. Opting for a more powerful compact tractor will be more costly and you may not even need the extra horsepower. The best suggestion is to talk with your dealer beforehand to determine the engine size you need.  
Contact Blacktrac for Help
If you are a local council that is considering investing in a compact tractor, Blacktrac can help you choose the right one for your requirements. We have a wide range of compact tractors from industry leading manufacturers, such as Solis, John Deere and Kukota. 
Our team of experts will support you throughout the process and be able to answer any queries you have along the way.
Contact Blacktac today to find out more about our range of compact tractors for councils.