One of the most important purchases a smallholder will make is a compact tractor. This informative guide will tell you everything you need to know about the Solis 20 4WD, so you can decide if it's the perfect compact tractor for you. There are many types of compact tractors available and various attachments. This guide will provide an overview of the Solis 20 and its benefits, so you can make the right choice for your requirements.
There are many features and potential attachments to consider with any Solis compact tractor, so keep an eye out for part two of this guide.
Everything You Need To Know About The Solis 20 4WD
The Solis 20 is a compact tractor that packs a lot of power for its relatively small size. It's ideal for smallholdings, sports clubs, and large school grounds because of the 4WD front axle. This gives the Solis compact tractor better traction and manoeuvrability, enabling ease of use over muddy terrain.
Solis is the fastest-growing compact tractor brand in Europe, and every year they sell over 90,000 Solis tractors. One of the most exciting models they're producing today is the Solis 20 4WD, which has many innovative design features and offers a wide range of unique benefits.
The Solis 20 compact tractor is designed with a small frame and low ground clearance. This enables the use of a mowing deck, which makes it ideal for use on smallholdings. Its agile four-wheel drive (4WD) handling ensures the compact tractor is easy to use for a wide range of tasks.
The 3-cylinder Mitsubishi engine powers the compact Solis 20 tractor. Combining this small tractor's power with different tyre options, such as agricultural, industrial, and turf, means it's a versatile compact tractor that's the best value on the market today.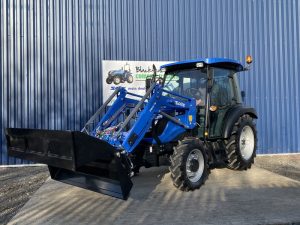 What Makes The Solis 20 4WD Compact Tractor So Special?
The Solis 20 is the smallest compact tractor Solis provides which means it has unrivalled manoeuvrability. The size combined with the 4WD front axle makes the Solis 20 the most agile tractor available. Operators can traverse tight corners, navigate rough terrain, and drive the tractor efficiently.
Comfortable Ergonomic Design
The operator area of any compact tractor should be designed for comfort and improved efficiency. That's why the Solis 20 4WD features an ergonomic design that supports you to complete tasks with ease. All operating controls are placed in the control area to improve performance.
4WD Front Axle
One of the biggest problems owners of smallholdings face is completing tasks across muddy terrain. This Solis tractor features a four-wheel-drive front axle that creates better traction, making the day-to-day tasks you need to complete simpler and easier. It also enables the operator to turn sharply, improves steering, and allows you to navigate tight spaces.
Fuel-Efficient 3 Cylinder Engine
The Solis 20 compact tractor is perfect for anyone that doesn't need a small tractor with high horsepower (hp). Its 3 cylinder engine is fuel-efficient with high torque. Instead of having to put up with an unbearably loud compact tractor, the engine is designed to emit minimum noise and vibrations.
Track Width
The Solis 20 is a versatile choice for smallholdings as it can fit multiple compact tractor attachments and implements. It's suitable for use on inter-cultural crops because of its track width.
Multi-Speed PTO
The Solis 20 tractor features a multi-speed PTO to ensure the tractor's engine can transfer power to an implement or attachment. PTO stands for power take-off and is a mechanical shaft that uses the engine to use rotational power and torque. 
The Key Solis 20 4WD Compact Tractor Attachments
Spot & Broadcast Sprayer
The sprayer is a versatile compact tractor attachment that is ideal to use with the Solis 20 tractor. This spot and broadcast sprayer are simple to operate and features a 12v power supply to ensure optimum performance. The broadcast boom nozzle is attached to the rear of the tractor, which sprays across approximately 3m using four nozzles. For ease of use, the sprayer is attached to a 100-litre capacity tank.
4ft Fleming Hydraulic Tipping Transport Box
The hydraulic tipping transport box is constructed from thick steel. It's strong, durable, and features a simple hydraulic mechanism to ensure easy operation. As the tipping transport box is 1200mm wide the attachment can carry a large number of materials.
Maple Machinery 5ft Finishing Mower
The finishing mower is a type of rotary mower that is attached to the rear of a tractor. It's the ideal tool for mowing small holding environments because of its three rotating shafts with staggered wheels to prevent the soil from compacting under the tractor. The Maple Machinery 5ft Finishing Mower is the perfect mower attachment to add to the Solis 20.
Beaconsfield 4ft Mounted Chain Harrows
The Beaconsfield 4ft Mounted Chain Harrows is ideal for soil cultivation. It's the perfect attachment for a Solis 20 compact tractor that smoothes the ground after it has been ploughed.
Oxdale 1.5 Tonne Dropside Tipping Trailer
For smallholders that have to transport heavy-duty materials regularly, often rely on their compact tractors. The Oxdale 1.5 Tonne Dropside Tipping Trailer is the perfect tool to do this using a Solis 20. It features a high carrying capacity, which makes it ideal for smallholders, stables, and landscape contractors.
Blacktrac Solis 20 4WD Compact Tractors
In this guide, we've only covered a few of the benefits of the Solis 20 and the attachments available. This blog is part 1 of our comprehensive guide into Solis 20 compact tractors. Keep an eye out for part 2 where you can discover even more of the key features of this innovative small tractor.
Choose the tractor that's right for you. At Blacktrac, our team wants to answer any questions you have. Unsure on which compact tractor fits the attachments you need? Get in touch with Blacktrac to discover the ideal tractor for you by filling in an enquiry form.