For such an important purchase, you need to digest as much information as possible before making a decision. That's why we've not only created one comprehensive guide on the Solis 20 4WD compact tractor but two! In part 1 we explored what makes them unique and the key attachments.
If you haven't read part 1 in this series yet, go back and learn whether the Solis 20 tractor is right for your requirements – and once you're caught up, let's explore some more of the most innovative features and attachments the Solis 20 4WD compact tractor can be used with.
Solis 20 4WD Compact Tractor Range & Attachments
The main reason smallholders across the country are investing in the Solis 20 compact tractor is it packs a punch for its small size. Its 3-cylinder Mitsubishi engine is deceptively powerful. The tractor's power, combined with the four-wheel-drive front axle (4WD) ensures strong traction and manoeuvrability – making it ideal for traversing muddy terrain.
Another key design feature of the Solis 20 4WD is the small frame and low ground clearance. The purpose of this innovative design is to fit a mowing deck, which is why many smallholdings are investing in this range. Completing a wide range of tasks is simple due to the efficient handling of the Solis compact tractor.
There isn't a brand of compact tractors growing faster in Europe than Solis. Every year they sell over 90,000 tractors and continue producing even more innovative high-quality designs. With the right tractor implements alongside a Solis 20 compact tractor, you can create a useful tool for your land. Because of the small tractor's versatility, it fits many compact tractor implements and attachments.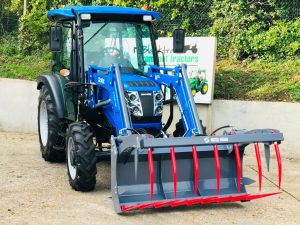 What Tractor Attachments Should I Invest In?
Part one of this series covered the spot and broadcast sprayer, the 4ft fleming hydraulic tipping transport box, Maple machinery 5ft finishing mower, Beaconsfield 4ft mounted chain harrows, and the Oxdale 1.5 tonne dropside tipping trailer.
Today we look at a variety of six other attachments the Solis 20 4WD can be used with:
Heavy-Duty 1.25M Rotovator
A rotavator is a powerful gardening tool that breaks up and aerates soil and land. This heavy-duty 1.25M rotavator is highly versatile due to its small size which makes it perfect for soil cultivations. It's the perfect tool for smallholders that want to cultivate the ground and break up the soil in preparation for planting. 
4" PTO Wood Chipper
This 4" PTO wood chipper is ideal for tree maintenance on grounds, private and public gardens, and park areas. It shoots wood chips onto a neat pile on the floor for added convenience. Smallholding owners can rely on the industry-leading chipping capacity of 5 cubic metres per hour.
1.5 Tonne Dropside Tipping Trailer With Extension Mesh Sides
The tipping trailer features a massive cubic m2 carrying capacity and a large tipping angle. If you're looking for a tractor implement to transport large amounts of materials, this attachment is ideal. Its high capacity for carrying is perfect for use on stables, landscaping jobs, and smallholdings.
Loader & Bucket
This front loader and bucket feature joystick control to make the process of moving materials and digging simple. Ease of operation is key for improving how efficiently you can complete tasks. The Solis tractor attachment is manufactured in Europe to the highest standards and specifications designed to be easy to operate. 
Rosselli 700R PTO Driven Saw Bench
One of the most difficult tasks landowners face is often cutting through logs. The Rosselli Driven Saw Bench is the ideal solution that features full guarding for operators to use safely and effectively. To cut through logs up to 12" in diameter the tractor implement has a tungsten tip blade that ensures an efficient cutting action.
Oxdale Hydraulic Post Knocker
Setting up posts across your land is a task that's often overlooked, however, when it isn't done correctly this can cause big issues. Using the Hydraulic Post Knocker tractor implement enables you to complete this task effectively and quickly. Its high mast makes it capable of hammering in 8ft high posts.
Blacktrac Solis Tractors For Sale
There are so many useful and innovative Solis tractor attachments we had to write 2 blogs about them. For landowners and smallholders, discovering the best tractor implements is essential for getting the most out of your compact tractor; so explore the different Solis tractors for sale and unearth the best option for you.
Choose a compact tractor that's powerful, easy to handle, and fits a wide range of tractor implements. At Blacktrac, we offer the highest-quality, innovative Solis compact tractors. If you're unsure which is the right choice for your requirements, get in touch with our friendly team by filling in an enquiry form. Alternatively, if you know the compact tractor you require, get a quote from us today.