What Is A 4 Wheel Drive Tractor?
A 4 wheel drive tractor has power in all 4 wheels to improve traction, increase pulling power, and enhance versatility. They're ideal for a wide range of maintenance tasks as they can fit a variety of compact tractor attachments. Depending on the job you're completing, either a 2 wheel drive or 4 wheel drive will be the better small tractor to use.
To understand whether you need a 2WD or 4WD Solis tractor, you need to learn the key differences between the two models. While both are eligible for road registration, many features differentiate the 2WD and 4WD tractors.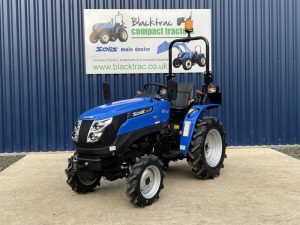 Key Differences Between 4 Wheel & 2 Wheel Drive Tractor
4WD Compact Tractors Features
4WD small tractors utilise the dynamic movement of each wheel, which delivers a variety of benefits to operators. The main reason 4WD tractors are so popular in the agricultural industry is the versatility they offer. Whether it's loading heavy-duty materials or cutting grass with a flail mower, the power in all 4 wheels makes the task easier and more efficient because of the improved traction.
The four-wheel-drive feature allows compact tractors to navigate rolling terrain and steep slopes. When land is wet and clogged with mud, 4WD tractors can drive across the surfaces without getting stuck as they have more traction than other small tractors. This is why if you need a tractor for haulage application, 4WD tractors are the perfect option.
Due to their strong and durable front axle, front lifting is reduced and stability increased when transporting heavy-duty loads. The 4WD transmission system ensures the tractor's durability increases as weight is distributed between both axle units. Operators can also increase their productivity with a variety of compact tractor implements.
As those in the agricultural industry will know, 4WD tractors typically have a higher upfront cost. If any damage occurs, they can also be more expensive to repair – spare parts can also cost more. However, a high-quality 4WD tractor can pay back your investment as they're more durable than 2WD options and can improve operator efficiency.
Why Choose A 4WD Solis Tractor?
Improved traction.

Increased pulling power.

Multiple compact tractor attachments are available.

Highly fuel-efficient.
2WD Compact Tractors Features
2WD compact tractors are powered using a 1 axle, unlike 4WD options which use 2 axles. As they only have 2 wheels propelling the tractor they're suited for dry agricultural conditions because they have less traction. Unlike 4WD tractors, they're not suited for scaling hills and navigating muddy terrain.
As they have a small turning circle, this makes them easier for operators to manoeuvre. For tasks such as fertilising ground, seeding, and traversing narrow areas. With the right compact tractor attachments, 2WD tractors can suit a variety of jobs across small holdings and other agricultural areas.
Why Choose A 4WD Solis Tractor
More affordable upfront payments.

Increased manoeuvrability.

Ideal for basic efficient agricultural tasks.
Blacktrac 4WD Solis Compact Tractors
The right innovative 4WD Solis tractor can improve efficiency and productivity for landowners and smallholders. Pairing them with high-quality tractor attachments also ensures you get the most from your investment. Explore the variety of Solis compact tractors for sale to discover the best option for your requirements.
At Blacktrac, we stock and supply high-quality, innovative Solis compact tractors. With so many options available like the Solis 20, Solis 26, and Solis 75, it can be difficult to know which is right for you. If you're unsure, speak to one of our friendly team today by filling in an enquiry form. However, if you know the tractor you want, get a quote on a high-quality Solis tractor today.