Hydrostatic Transmission Tractor
A hydrostatic transmission is powered using hydraulic fluid and allows a tractor operator to speed up or slow down smoothly without switching gears. Compact tractors with a hydraulic transmission improve ease of use, offer seamless speed control, and are versatile to use for multiple tasks. While Hydrostatic transmission tractors may seem easier to use than tractors with gear transmissions, the right option will depend on your circumstances and requirements.
Landowners and farmers have many choices when looking at the variety of tractors for sale. To understand which small tractor is right for you you need to explore the advantages of each.
Advantages of Investing in an HST Tractor
Improved Ease of Use

Effective With Front Loaders

Increased Durability

Smoother Operation

Requires Less Maintenance
Improved Ease of Use
A hydrostatic transmission improves a compact tractor's ease of use for operators. The transmission enables operators to control the direction and speed of the small tractor only using the pedals. This means they can focus more attention on steering and manoeuvring while in the operator station as they don't have to change gears.
Effective With Front Loaders
Amongst the variety of tractor implements and attachments, front loaders are the most effective tools to use with hydrostatic transmission compact tractors. Compact tractor operators don't have to change gear, so the control they have over the front loader is improved. For tasks such as handling compost or other materials, a small tractor with the hydrostatic transmission is the most efficient choice.
Smoother Operation
Because the hydrostatic transmission doesn't require you to change gear, the risk of stalling is removed. Having more control over steering also makes completing tasks much more comfortable.
Increased Durability
Because the hydrostatic transmission enables a smoother operation, this increases the compact tractor's durability. With regular, low-effort maintenance, your used compact tractor's hydrostatic transmission will last long-term. This ensures you get the most out of your investment.
Requires Less Maintenance
While similar to an automatic transmission, a hydrostatic transmission uses fluid instead of belts so power transfers from the engine to the wheel drive. The hydraulic fluid and filter(s) should be changed as per the manufacturer's service schedule.  With maintenance as per the recommended service schedule, an HST transmission should last around 500 hours.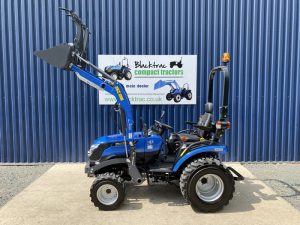 How To Drive A Hydrostatic Transmission?
Hydraulic fluid and a variable displacement pump drive the hydraulic motor which is how the transmission functions. Tractors with this type of transmission are controlled using pedals, both to drive forward and to reverse. There is a wide range of speed increments that operators have control over which improves ease of use. Removing the need to change gears manually frees up the operator's upper body to entirely focus on steering and utilising the tractor implement.
Hydrostatic transmissions are the preferred choice for completing work with front-end loaders, such as transporting manure or compost, because they can immediately transition from moving forwards to reversing.
Hydrostatic transmission tractors are quick to stop in an emergency, torque is efficient and seamless, and they're ideal for landscaping tasks. With no need for a gearbox, the tractors can be made smaller to improve manoeuvrability and reduce the turning radius.
What's The Difference Between Hydrostatic & Shuttle Tractors?
There are also tractors that are available with a Shuttle Transmission.  In simple terms, shuttle tractors have a manual gearbox but can be slightly easier to use than a traditional manual tractor as the gear change is carried out via a lever.  Like the Hydrostatic Tractors, Shuttle Tractors usually have 2 – 3 ranges (High, Medium, Low) but the lever rather than the pedal selects the forward/reverse motion of the tractor.
Blacktrac HST Tractors
At Blacktrac, we offer a variety of high-quality, unique used tractors for sale. Depending on your regular tasks, an HST tractor may be the right opinion for your requirements. If you're unsure of which tractor is right for you, speak to one of our friendly team today by calling 01933 272662. Alternatively, fill out our inquiry form and we'll be in touch shortly.
If you already know the right tractor for you, get a no-obligation quote today.