Tasks To Complete On A Small Holding In The Winter
As autumn creeps in, many people are focused on the changing colour of the leaves, while owners of smallholdings are already preparing for winter. In the UK, even before winter fully sets in, you will have to work around cold temperatures and dark mornings and evenings. 
There are many tasks to complete on your smallholding during the winter. Some you can perform in the build-up to the winter months, while other tasks you will need to carry out throughout wintertime. With a small tractor, you can make many of these tasks easier for an affordable price.
How A Small Compact Tractor Can Help With Jobs In The Winter
Store Away Materials
There are many materials you will store on your small holding; however, many may not be able to handle the winter weather conditions. Harsh, cold temperatures and wet weather could damage straw bales, haylage, and silage. Storing these materials in a cool, dry building is necessary during winter and the most effective way to transport them is using a mini tractor. Compact tractors can tow trailers over different terrains, or you can use a tipping transport box.
Lay Bedding for Livestock
The drop in temperature during winter means your livestock will need extra bedding. Straw, wood shavings, and sawdust are great materials to use, but whatever your preferred material is, using a small tractor is an efficient way to transport them. Using your chosen tractor implement allows you to keep the materials clean and dry while transporting them. You can store hay bales in a trailer and cover them with tarpaulin as you transfer them to the right location.
Spread Manure Over Land
Later in the winter is one of the best times to spread manure, because it's when crops are most likely to absorb the nutrients. This allows you to reduce the costs you're spending on fertiliser and increase crop yields. A small tractor speeds up the process of spreading manure, allowing you to complete the task more efficiently.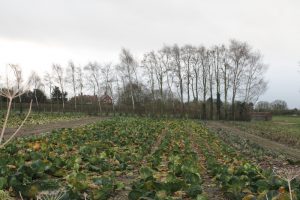 Keep Up With Feeding
While some livestock will live inside during the winter, some animals are quite happy and safe to stay outside throughout the colder months. Native sheep and cattle will be fine outside during winter,, as long as they have proper food and shelter. If you have many animals in your small holding, a compact tractor is a faster way to move large quantities of food across potentially waterlogged or uneven terrain. 
Navigating Terrain In Dark Mornings & Nights
One thing many people don't enjoy about the winter is the dark mornings and nights. For owners of small holdings, unfortunately, the dark can be more than an inconvenience, and the lack of light increases the risk of accidents, slips or trips.
A compact tractor is a safe and efficient way to navigate your small holding all year round.
Choosing The Right Small Tractors For Sale
Solis is the fastest-growing compact tractor supplier in Europe. The Solis 20 is one of the most popular small tractors available and offers a wide range of innovative features. It's 4WD, has a UK clockwise 6 splined PTO shaft, and has double hydraulic valves.
If you're looking for a high-spec mini tractor that's easy to operate, choose the Solis 20. Here are some of the industry-leading tractor implements that can be paired with this high-quality small tractor.
Solis 20 Compact Tractor With New Single Furrow Reversible Plough
A plough is an essential tool to turn over the soil and cut furrows, to prepare your land to plant seeds. This innovative single furrow reversible plough features a simple-to-operate design proven to deliver results. When operating the small tractor, all you have to do is pull a small lever to reverse the plough.
Solis 20 Compact Tractor With New 4FT Fleming Hydraulic Tipping Transport Box
Featuring a simple hydraulic mechanism, this tipping transport box is 1200mm wide. It's simple to operate with 5ft and 6ft models available depending on your requirements. You can use the box to move materials, equipment, and tools across your small holding with ease.
Solis 20 Compact Tractor With New Oxdale 1.5 Tonne Dropside Tipping Trailer With Extension Mesh Sides
Tipping trailers are another tool that allows you to transport materials across your small holding. The tractor implement has a dropside tipping body and a large tipping angle which makes it easier to place the materials. They also have rams that prevent dirt from entering the trailer because they're fitted with wiper seals.
Blacktrac Tractors For Sale
If you're preparing your small holding for winter, invest in a high-quality compact tractor to make completing your tasks much easier. We offer industry-leading small tractors for sale at Blacktrac. Our team works with you to make sure you choose the ideal mini tractor and tractor implements for your requirements. Call our team today on 01933 272662 or fill in an inquiry form.
If you already know the right tractor for you, get a no-obligation quote today.