Landscaping, cutting your lawn, and farming work is all made easier by using a small tractor. Instead of investing in a full-sized tractor straight away, look at the types of jobs you will need the tractor for. The scale of your tasks and your business's needs could mean you will benefit more from owning a compact tractor rather than a larger model.
Small tractors are more affordable and fit a wide range of attachments. This makes them ideal tools to use for a variety of different work. In some cases, a smaller tractor will be able to complete objectives that larger models can't. To fully understand the many benefits these tractors offer, first, you need to know what a small tractor is.
What is a Small Tractor?
A small tractor is essentially a large tractor scaled-down and is also known as a compact tractor. They're designed to complete tasks that full-sized models can't. For example, compact tractors are more agile and can navigate tight corners smoothly and efficiently.
If you're looking for a device to complete lightweight jobs, small tractors are incredibly useful. Jobs such as property maintenance can take many hours of effort to complete. However, using a compact tractor allows you to complete the task faster, more effectively, and using less physical exertion. 
Below are some more examples of work that small tractors are suited to:
Lawn Mowing

Ploughing

Landscaping

Road Maintenance

Grading

Tilling
Investing in a small tractor reduces the time it takes to complete maintenance tasks and removes the hours of manual labour required. However, it achieves this without the increased price tag of a full-sized tractor. This is why a small tractor is a cost-effective investment for farmers that will benefit them long-term.
There are many other benefits to owning a small tractor. To give you an idea of some of the reasons why you should buy a compact tractor, we've created a list of benefits below: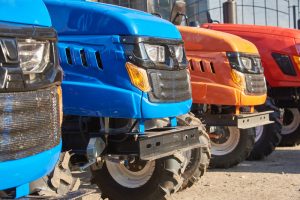 Benefits of Investing in a Small Tractor
Easy To Run & Maintain
Compact tractors have a low fuel consumption, so can be used for longer without having to refuel. While they have smaller fuel tanks, they use less fuel as compact tractors don't weigh as much as full-sized alternatives. While small tractors won't run for as long, they will still save you money on petrol or diesel over time.
Small tractors are also easy to maintain as replacement parts and components are simple to find. Compact tractors allow easy access to the engine as well, so if an issue does arise, it can be diagnosed and fixed quickly.
Efficient To Maneuver 
One of the biggest reasons many farmers invest in small tractors is the manoeuvrability they offer. Because of the size of compact tractors, they have a smaller wheelbase, which is why they have a tight turning circle, and operators can navigate confined areas effectively. This ensures you can complete tasks more quickly.
Full-sized tractors are unable to complete work in smaller spaces, so instead of doing these jobs manually, invest in a compact tractor. Small tractors also require less training for users to operate. As they have fewer controls, they're simpler to drive and use for various jobs.
Adaptability & Comfort
Small tractors are versatile and can be adapted with implements and attachments to complete a wide range of tasks. Compact tractors can be adapted for a variety of industrial and agricultural jobs. 
The customisable options are simple to fit and there are also other modifications available. For example, different tyres, lights, and engines can be installed so your small tractor matches your requirements.
Compact tractors are extra comfortable for operators and offer added convenience when completing work. Many small tractors have spacious platforms where the seat is located. Often, they also have ergonomic controls on either side of the driver's seat, so it's simple and efficient to operate.
If a compact tractor is a smart long-term investment for your farm, get in touch with Blacktrac today.
Blacktrac Small Tractors
Blacktrac offers a wide range of small tractors for sale and high-quality compact tractor implements and attachments. We supply affordable small tractors to our customers made by the world's leading manufacturers such as Solis, John Deere, Massey Ferguson, and JCB. Call us on 01933 272662 to find out more or explore our range of small tractors today.